Rachel Parent, Founder of Kids Right to Know, Interviewed by Global News on April 5th, 2013
Click on the image below to watch the interview!
Kitchen Vignettes with Rachel Parent – Honey Lemon Polenta Cake
By Aubergine from Kitchen Vignettes: "Isn't it the best when you meet someone who isn't afraid to take action when they see a problem in the world? And who does it with enthusiasm and optimism? And leaves you feeling inspired and hopeful that we all have the power to make a change if we just put our minds to it? I had the great pleasure of meeting such a person this winter."  Click here to read the entire blog post entry at Kitchen Vignettes!
Kitchen Vignettes shares this video - Rachel Parent: A young activist fights for GMO labelling in Canada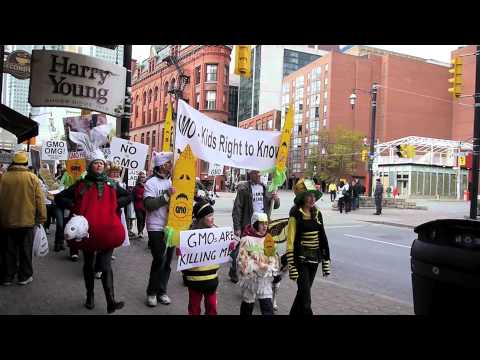 CFRB NEWSTALK 1010 AM Interviews 13 Year Old Rachel Parent, about her Speaker topic, at the 2013 Toronto  Green Living Show, Organic Expo
Interview with Josh Gitalis, Clinical Nutritionist
Watch Rachel's GMOs Kids Right to Know Interview on Rogers daytime TV show, November 14
Rachel Interviewed by Lisa Petty on Lisa Live Radio Show: October 27th, 2012
Rachel conducted an interview live with Lisa Petty on the Lisa Live Radio Show on October 27th.
Rogers Daytime Toronto Interview on October 26th, 2012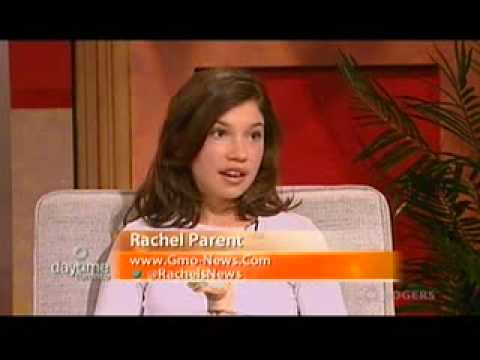 GMOs – Kids Right to Know Walk: LA Interview on August 27th, 2012
GMOs Kids Right to Know Walk – Video from the Walk on Nov. 3
This one minute video is an overview of Rachel Parent, the 13 year old girl who lead a GMOs Kids Right to Know Walk on November 3rd in Toronto, to bring awareness to people and the Canadian government to add food labels to Canadian food supply that lets people know if the ingredients contain Genetically Modified Organisms or GMO's. Also featured in this video with Rachel is Julie Daniluk.
GMOs Kids Right to Know Walk, Rachel's Speech from the Walk
THANK YOU EVERYONE FOR BEING HERE TODAY – IT MEANS THE WORLD TO ME,WE ALSO MANAGED TO RAISE ENOUGH MONEY TO PUT ON THIS EVENT – THANK YOU TO ALL THE GENEROUS DONORS, A VERY SPECIAL THANKS TO ALL THE TALENTED PEOPLE WHO PITCHED IN TO MAKE THIS EVENT HAPPEN, INCLUDING MAKING THE GMO-NEWS WEBSITE, VIDEOS, FLYERS, AND TO ELSA AND ELISE FOR MAKING THE GREAT COSTUMES AND PROPS AND TO MY MOM WHO'S BEEN WORKING NON-STOP, FINALLY, I'D LIKE TO THANK JULIE DANILUK (hosts Healthy Gourmet on Oprah Winfrey Network) FOR HELPING ME LEAD THIS EVENT AND DEANE PARKS FOR ALL HIS CONTRIBUTIONS AND FOR MC-ING TODAY, AS YOU MAY KNOW, I'VE BEEN FIGHTING GMOs FOR A LONG TIME, BUT WHEN I READ ABOUT THE RECENT RAT STUDY AND SAW THE PICTURES, THAT TRIGGERED SOMETHING IN ME.  I KNEW SOMETHING HAD TO BE DONE. COULDN'T JUST STAND BY KNOWING ABOUT SUCH A BIG ISSUE WITHOUT DOING SOMETHING.  ENOUGH WAS ENOUGH! I KNEW WE HAD TO INCREASE AWARENESS OF GMOs AND THE HEALTH RISKS THEY POSE -  AND THE TIMING WAS IDEAL BECAUSE OF CALIFORNIA'S PROPOSITION 37 FOR GMO LABELING. THE GMO KIDS RIGHT TO KNOW WALK SEEMED TO BE THE PERFECT WAY TO INCREASE AWARENESS WHILE AT THE SAME TIME SHOW SUPPORT FOR PROP 37, I HOPE THAT IT'S ONLY THE BEGINNING OF A MASSIVE AWARENESS PROGRAM THAT WILL EVENTUALLY PRESSURE THE GOVERNMENT FOR GMO LABELING, PRODUCT LABELS HAVE TO LIST VITAMINS, CALORIES, FATS, AND EVEN IF IT WAS MADE IN A NUT FREE MANUFACTURING PLANT, SO WHY NOT GMOs? OVER 60 COUNTRIES AROUND THE WORLD LABEL GENETICALLY MODIFIED FOOD, INCLUDING AUSTRALIA, THE EUROPEAN UNION, JAPAN, RUSSIA AND CHINA.  WHY NOT CANADA?  I HAVE 3 WORDS FOR OUR GOVERNMENT -    JUST    LABEL  IT!  AFTER ALL, WE HAVE THE RIGHT TO KNOW WHAT WE'RE EATING. IT'S FOR MY FUTURE AND IT'S FOR YOUR FUTURE.
Toronto's First GMO Kids Right To Know Walk, Nov 3  2012 Photos (Photos BY Sam Truax)
GM-fed Lab Rats
This photograph of lab rats is a strong initiator of Rachel's movement: